For our customers located in the United States, we're excited to announce that we are adding direct deposit functionality to assignr.com. Your officials will love the convenience, and you'll enjoy how much time it will save you.
assignr.com will be leveraging Dwolla to help facilitate bank transfers to pay your officials. If you have not heard of Dwolla, they are a payments solution that takes the complex world of payments processing and wraps it into a seamless experience, all accessible through assignr.com.
How does it work?
Your officials provide their banking information through assignr.com. All we need is the routing number and account numbers from the bottom of a check.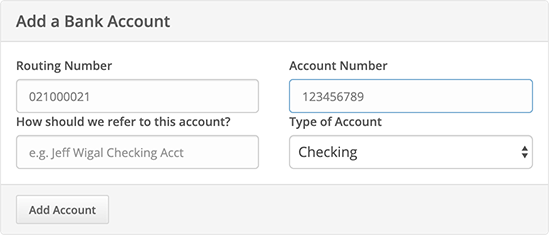 You (or whoever you designate to pay officials) uses our financial module to choose the officials to pay. You can pay everyone at once, or select the officials to be paid.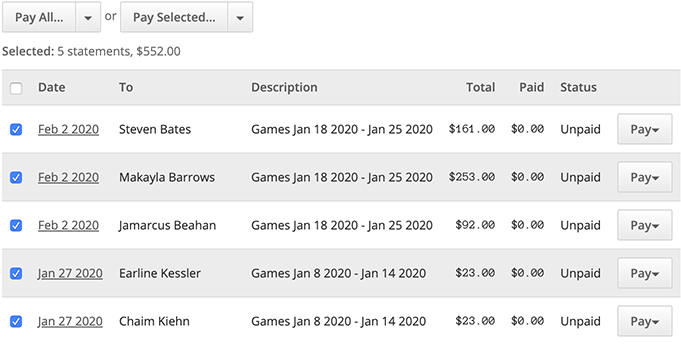 You'll review and authorize the payment amounts from one screen. If all looks good, you authorize the payment:

A transfer from your bank account is initiated and, a few business days later, your officials see the funds in their bank account.
Officials Paid by a League or School? We can do that too.
If your officials are paid by someone else, each organization can be granted access to assignr.com and use our financial module to pay officials directly.
Our payment processing fees are paid by the organization that pays your officials. If your officials are paid directly by a league or school, it might not cost you anything extra, since the costs involved with direct deposit are paid by the organization that pays your officials.
Costs and Eligibility
Regardless of whether you pay officials once a week, once a month, or once a season, we can help make this process as easy as possible for you and your officials.
Payment processing services are priced separately from our assigning platform, and start at $299/year, which includes service for up to 100 transactions or $10,000 in processing volume. Plans are also available for organizations that process a high volume or pay officials more frequently.
When can I start?
We will begin offering this service in March.
Customers who are on the League or Elite plan will be eligible to use Direct Deposit. If you are on the Mini or Recreational plan, you'll need to upgrade in order to use the service